After Naples, we headed to Sorrento where our room was finally ready.

Matt and I were lucky, because we got a room facing the ocean, with a big balcony.

The hotel had it's own beach, and everyone headed out to the warm Mediterranean sea for a swim before dinner.

For dinner we had pizza again!

It was so good.

Unfortunately the salads in Italy were not to my taste.

They were all slathered with salt and olive oil, where I prefer just a drop of olive oil and a lot of vinegar.

So I ate mainly carbs while in Italy.
After dinner we walked around downtown Sorrento.

We had a limoncello tasting, which I enjoyed and Matt did not.

After that we got some gelato and did some shopping.

Matt bought me a pretty red coral necklace.

We also went to a Dali museum, and saw some of the interesting paintings he did.

That night we relaxed on the beach for a while with the rest of the group.
Day 7 – This was our day to go to Capri.

We were up nice and early to catch the 9am ferry to Capri.

When we got there, we had a boat ride around the island.

Unfortunately the waves were too high to go around the island completely, but we went about halfway around.

We stopped by the white grotto and took a swim break.

The water was so nice and crystal clear.

We stopped again after that to swim, but it had gotten cloudy and was a little chilly.
Back in the city of Capri we got lunch and then headed up the funiculare (cable car) to the upper part of Capri.

We walked around where the shops were for a little while, but it was so crowded that we turned off the main path and started walking around the residential paths (can't really call the streets, they were so narrow!) .

We got some incredible views that way, and were able to enjoy the scenery without hundreds of other people.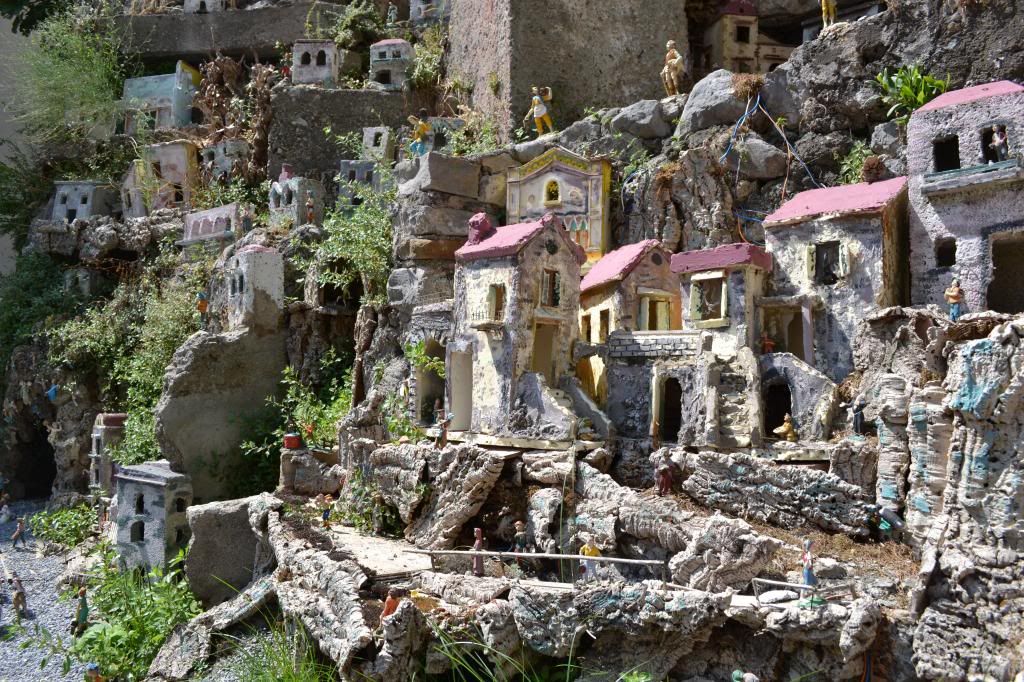 Mini-Amalfi model.
When we got back to the hotel we had one last chance to swim on the beautiful beach by our hotel.

A bunch of people from our tour went swimming, and we made up a type of dodgeball game, and played that for a while.

That night we ate at our hotel, which had delicious food.

The hotel had actually been a restaurant first, and then they built the hotel around it.
Sunset as seen from our hotel balcony over Capri.
Pink Floyd played here!